Podcast: Play in new window | Download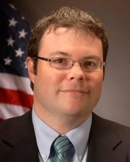 The Development Innovation Ventures Program (DIV) at USAID launched in 2010 with a mission to find, test and scale ideas that could radically improve global prosperity. Its key features include crowd sourcing of breakthrough solutions; staged funding to test those solutions; and prioritizing grant proposals based on their cost effectiveness, their use of rigorous evidence to show impact, and their ability to be scaled up over time.
While DIV focuses on international development, its evidence-based, outcome focused grant design has relevance for public leaders in many fields and levels of government. In fact, DIV is one of a small but growing number of federal grant programs using staged funding, also called tiered-evidence grants or innovation funds. Staged funding helps public agencies focus grant dollars on approaches backed by strong evidence, while still encouraging innovative new approaches.
To learn more, we're joined by Jeffrey Brown (@jeffhbrown) who leads DIV at USAID. The interview includes: An overview of DIV; Stage 1 funding and an example related to strengthening the work of frontline health workers in India; Stage 2 funding and an example related to bringing safe power sources to villages in India; Stage 3 funding and an example related to promoting safe drinking water in Kenya; an overview of what it takes to run a staged grant program; and the applicability of DIV's approach to other policy areas.
Web extra: Jeffrey Brown discusses the usefulness of building an rigorous evaluation strategies into grant-funded projects before they are launched, rather than trying to measure impact later on or after the fact. [click here]