Podcast: Play in new window | Download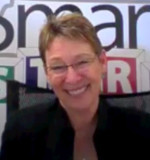 Stephanie Fanjul is the Executive Director of Smart Start in North Carolina. Smart Start was created in 1993 by Governor Jim Hunt as an innovative way to tackle an important problem: Children were coming to school unprepared to learn. A related challenge was that childcare in North Carolina was poorly financed, fragmented, and often low quality.
Now almost 20 years later, Smart Start provides funding to local programs that serve children under 6 and their families in all of North Carolina's 100 counties. Its annual budget is around $200 million – mostly state funds, with about 10% raised privately. It's been called the most ambitious large-scale effort to build a comprehensive system of early childhood services in the United States.
Web extras: 
Stephanie Fanjul gives her advice to state officials elsewhere in the U.S. who may be interested in starting an initiative like Smart Start [click here].
She describes the role of the business community in Smart Start [click here].