Podcast: Play in new window | Download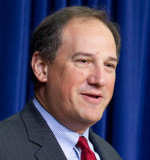 The U.S. Department of Labor is a useful case study of a large public-sector organization that successfully strengthened a culture of results, data, learning and evidence. In doing so, it improved its performance on key outcomes. Moreover, by 2013, DOL had the highest score among cabinet agencies in terms of the use of performance information — and the only cabinet agency to see a statistically significant increase on this measure between 2007 and 2013. This progress reflects a concerted effort by the Department to use performance management, data and rigorous program evaluation to improve results.
An important leader in this effort was Seth Harris (@MrSethHarris), who served as Deputy Secretary of Labor from 2009 to 2014 and as Acting Secretary in 2013. He joins us to discuss key elements of DOL's turnaround strategy.
Web extra: Seth Harris discusses the results of DOL's performance turnaround efforts. [click here]
More information: For an in-depth examination of the turnaround strategy, as well as commentary and analysis on Federal performance management initiatives, see Seth Harris' journal article in the West Virginia Law Review. [click here]
Related interview: To learn more about DOL's efforts to help operating agencies build evidence around important programmatic and policy questions, see the Gov Innovator interview with Demetra Nightingale, DOL's Chief Evaluation Officer. [click here]