Podcast: Play in new window | Download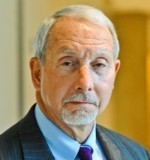 How do outstanding senior government executives make tough decisions? Recent exploratory research suggests that these leaders need to be "ambidextrous," meaning skilled at gathering input and conducting thorough analysis of complex decisions, while at the same time willing to make tough and courageous decisions. Moreover, these executives also appear to have a "bias for action," meaning leaning towards decisiveness in decision-making even at the risk of not having enough information.
These findings come from a recent Harvard Kennedy School Working Paper, "'I Won't Back Down?': Complexity and Courage in U.S. Federal Executive Decision-Making" by Steven Kelman, Ronald Sanders, Gayatri Pandit and Sarah Taylor.
To learn more, we're joined by one of the co-authors, Ronald Sanders, a Vice President at Booz Allen Hamilton. Previously he served for 37 years in the federal government, 20 of which were in senior executive positions, including as Associate Director of National Intelligence.