Podcast: Play in new window | Download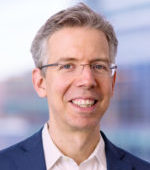 If you think about what the Federal government does, grant making may not be the first thing you think of. Even so, billions of dollars flow from the Federal level to states, localities and nonprofits in the form of grants. How can the Federal government encourage more evidence-based policy and innovation through the grant making process?
We get insights from Robert Gordon who held top leadership roles at the White House Office of Management and Budget and the U.S. Department of Education — and was one of the architects of the Obama Administration's evidence agenda. He's also the co-author with Ron Haskins of a bipartisan agenda for strengthening the use of data and evidence, published in the book Moneyball for Government. He is currently a Senior Vice President at the College Board.
In the interview, he discusses three of the grant-related strategies presented in the "Moneyball" chapter. They are for Federal agencies to:
conduct grant-program "look backs" to replace mandates for processes with incentives for outcomes;
transform existing formula and competitive grants to use more evidence;
create new flexibility to test new approaches to fighting poverty.
Web extra: Robert Gordon discusses how evidence-based policy can be an area of agreement between leaders from different political parties around the goal of spending smart. [click here]