Podcast: Play in new window | Download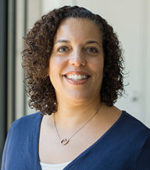 How can communities better address young people's physical and emotional health needs? A growing trend is the use of school-based health centers. The goal is to provide convenient, accessible, and comprehensive health care services to students from pre-k through high school by having a health provider — or sometimes an interdisciplinary health provider team — that is co-located in the school setting.
To learn more about the trends in school-based health centers and the evidence of their impact, we're joined by a leading expert on the topic, Olga Acosta Price. She is an Associate Professor at the Milken Institute School of Public Health at The George Washington University and director of its Center for Health and Health Care in Schools. Her recent paper published by the Brookings Institution focuses on school-centered approaches to improving community health.
Web extra: Olga Price discusses how the recent clarification of the free care rule issued by the Federal government helps facilitate broader use of school-based health centers. [click here]