Podcast: Play in new window | Download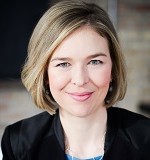 Can a brief, hour-long intervention significantly improve outcomes for first-generation college students? Research by Nicole Stephens and her colleagues shows that it can. She is a social and cultural psychologist and a professor at the Kellogg School of Management at Northwestern University.
As background, college students who do not have parents with four-year degrees — in other words, first-generation students — earn lower grades and encounter more obstacles to success in college, on average, than students with more advantaged parents. Innovative approaches can help close this social class achievement gap.
An important example comes from research by Professor Stephens and her co-authors published in the journal Psychological Science. Based on a rigorous research design using a randomized controlled trial, they find that a brief difference-education intervention (in the form of a student panel for incoming students) reduced the social-class achievement  gap, based on grade point, by 63% compared to students who participated in a similar panel that did not highlight students' different backgrounds.
Web extra: Nicole Stephens discusses another brief social belonging intervention that also had sizable effects, studied by researchers Gregory Walton and Geoffrey Cohen. [click here]
Note: Following our interview, this intervention was discussed in a New York Times article on first-generation college students. [click here]