Podcast: Play in new window | Download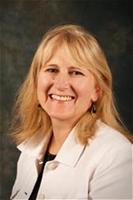 How do you run effective meetings? Form a productive and trusted relationship with your boss, the Secretary of an agency? Deal productively with the media? Or help lead an agency or division through a time of external political upheaval? You might not see these topics on a syllabus in graduate school, yet they are critical to bring a successful agency leader.
To gain insights into these topics, we're joined by a seasoned public manager who has served in senior leadership roles as both a political appointee and a career civil servant. JoAnna Richard is the former Deputy Secretary of the Wisconsin Department of Workforce, under then-Governor Jim Doyle and Secretary Roberta Gassman. In that role, from 2003 to 2010, she was responsible for the internal day-to-day operations of a department of 1,600 employees and budget of nearly $2 billion. Today she is in a career (non-political) role, as the Deputy Division Administrator at the Department's Division of Vocational Rehabilitation.
Web extras: Joanna Richard discusses how, as Deputy Secretary, she oversaw the operations of five divisions through weekly check-in meetings [click here] and she shares her reflections of how to work effectively with a governor's office [click here]