Podcast: Play in new window | Download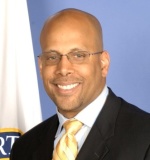 The U.S. Department of Education has made important advances in recent years in encouraging evidence-based grant making, including focusing a larger share of discretionary (a.k.a. competitive) grant dollars on approaches backed by rigorous evidence of effectiveness and facilitating more evidence building among grantees. What lessons does the Department provide other public agencies at the federal, state and local levels in terms of strengthening evidence-based grant-making?
We explore that question with Jim Shelton (@JIMSEDU), the Deputy Secretary of Education, who has been a strong advocate for the greater use of evidence to learn and do what works. Previously he led the Office of Innovation and Improvement at the Department, managing a portfolio that included most of the Department's competitive programs, including the Investing in Innovation Fund (i3). Prior to that, he was the program director for education at the Bill & Melinda Gates Foundation.
Web extras: Jim Shelton discusses the type of incentives that can be used to encourage (or require) grant applicants to use or build evidence, including on the front end (at the application stage) and on the back end (program evaluation requirements). [click here]
Update: In May 2016, two years after leaving the Obama Administration in 2014, it was announced that Jim Shelton would lead the Chan Zuckerberg Initiative, founded by Facebook CEO Mark Zuckerberg and his wife, Dr. Priscilla Chan.