Podcast: Play in new window | Download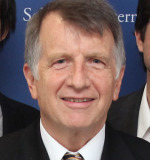 Jeff Tryens is the Deputy Director for Performance Management in the Mayor's Office in New York, under Michael Bloomberg. He is responsible for reporting overall city government performance and initiating cross-agency performance improvement initiatives. Prior to that role, Jeff  was the Executive Director of the Oregon Progress Board from 1995 to 2005. In that role, he helped oversee Oregon's strategic vision, known as Oregon Shines as well as its 90 indicators of social, economic and environmental health known as Oregon Benchmarks. Those efforts helped Oregon became a leader in performance reporting.
Web extra: Jeff Tryens talks about his current work in New York City, including what is unique about New York City's performance reporting, including the Mayor's Management Report (MMR) [click here].