Podcast: Play in new window | Download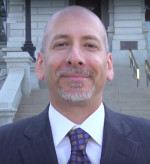 Colorado is a leader among U.S. states in involving state employees in efforts to make state government agencies and programs more efficient and effective through a so-called lean approach. Lean techniques were developed in manufacturing settings, most famously at Toyota, and have since been applied to service settings, including government agencies. Under Governor John Hickenlooper, Colorado launched its lean initiative in 2011 and it has lead to about 200 projects within state agencies and has trained about 2,500 state employees in lean techniques.
To learn more, we are joined by Henry Sobanet, the Director of the Office of State Planning and Budgeting in Colorado, who has spearheaded the state's lean efforts for Governor Hickenlooper.
Web extra: Henry Sobanet discusses Colorado's involvement in the Pew-MacArthur Results First Initiative which is working with 19 states and several counties to implement an innovative cost-benefit analysis approach that helps jurisdictions invest in policies and programs that are backed by strong evidence that they work. [click here]