Podcast: Play in new window | Download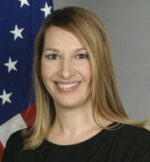 Almost all Federal agencies are lead by a Secretary and a Deputy Secretary. But in 2000, Congress created a new position at the State Department, the Deputy Secretary of State for Management and Resources — in other words, the chief operating officer. In doing so, the Department became the only federal Cabinet-level agency with two co-equal Deputy Secretaries.
What lessons does having a second Deputy Secretary provide for other public agencies, whether federal, state or local? To get insights, we speak with Heather Higginbottom (@hhigginbottom). She served as the Deputy Secretary of State for Management and Resources from 2013 to the end of the Obama administration. Before that role she served as Deputy Director of the White House Office of Management and Budget. She currently serves as the Chief Operating Officer of CARE, the global humanitarian organization. We recorded this conversation in 2016 while she was still in her Deputy Secretary role.
Update: The Trump administration appears to be combining the two Deputy Secretary roles at State into one, reversing the structure during the Obama administration.