Podcast: Play in new window | Download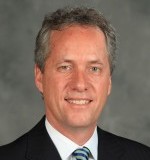 Mayor Greg Fischer (@louisvillemayor) of Louisville, Kentucky joins us to talk about creating a city government culture that is data driven and results focused. He is a former businessman and entrepreneur who was first elected mayor in 2010 and was re-elected in 2014. He was named a "Public Official of the Year" by Governing Magazine in 2013, with the magazine noting, "At the heart of his performance efforts is a focus on data." Under his leadership, Louisville has launched a PerformanceStat initiative called LouieStat, launched a 311 mobile app, implemented a new open-data policy and launched innovation delivery teams.
In the interview, Mayor Fischer also discusses his work to make Louisville a more compassionate city, including allowing city employees to take two hours of paid time each week to be a mentor.