Podcast: Play in new window | Download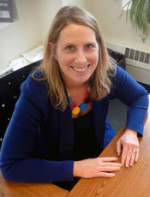 Allegheny County, which includes Pittsburgh, is recognized as a leader in using data to improve the results of its human services programs. In particular, the county's Department of Human Services (DHS) created its Data Warehouse in 1999. The initiative stated by consolidating its own internal human services data relating to topics such as behavioral health, child welfare and homeless services. Over time, the warehouse expanded to include data from other county agencies as well as the Pittsburgh Public Schools.
To learn more, we're joined by Erin Dalton. She is the Deputy Director for the Office of Data Analysis, Research and Evaluation within DHS.
Web extras: Erin Dalton discusses what beneficial capabilities are not possible if a county does not have integrated data [click here]. She also explains what new features of the Data Warehouse are being developed. [click here].