Podcast: Play in new window | Download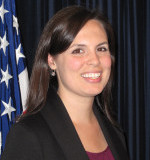 In 2010, the Administration for Children and Families at the U.S. Department of Health and Human Services launched the Behavioral Interventions to Advance Self-Sufficiency (BIAS) project. Its purpose is to adapt and apply insights from behavioral economics to the design and implementation of social service programs and policies, with the broader goal of improving the well-being of low-income children, adults, and families. It is the first major opportunity in the U.S. to apply a behavioral research lens to programs that serve poor families. The project is led by the social policy research firm MDRC, in partnership with behavioral science experts across the U.S.
The BIAS project uses a four step approach to address challenges or bottlenecks in social programs — an approach that any state or local social service agency (or any public agency in general) could also use.:
Define: identify problems of interest with the program or agency
Diagnose: gather data, create a process map & identify drop-off points, and hypothesize bottlenecks
Design: brainstorm behaviorally informed interventions that have the potential to address bottlenecks
Test: pilot the behavioral interventions using random assignment or other experimental framework
To learn more, we are joined by Emily Schmitt (@epschmitt) who is the point person for the project. She is a Research Analyst at the Office of Planning, Research and Evaluation within ACF, which is the office that is funding the project.