Podcast: Play in new window | Download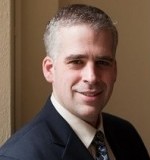 How can schools use low-cost solutions to help children make healthier food choices? David Just (@DavidJust1) is an expert on that topic. An economist by training, he is a professor at Cornell University and co-director, with Brian Wansink, of the Cornell Center for Behavioral Economics in Child Nutrition Programs (BEN Center). His research has included dozens of field and lab experiments that identify the subtle factors in the environment that can lead both children and adults to make the healthier food choices.
Further resources: For an interactive summary of "nudges" that can be used to create smarter lunchrooms, see this op-chart in the New York Times, co-created by David Just. You can also check out the Smarter Lunchrooms Self-Assessment created by the BEN Center.