Podcast: Play in new window | Download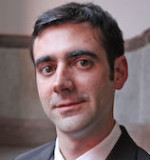 Cincinnati, under Mayor John Cranley and City Manager Harry Black, has recently launched a set of new initiatives designed to strengthen city government performance and improve outcomes for residents. The initiatives include the introduction of citywide strategic goals, department head performance agreements and the launch of an innovation lab. Coming in June, the city will also launch CincyStat, the city's PerformanceStat initiative.
To learn more, we're joined by Chad Kenney who is the Chief Performance Officer under Harry Black, in the city's Office of Performance and Data Analytics. Prior to his role in Cincinnati, Chad was the director of CitiStat in Baltimore.
Web extra: Chad Kenney describes the upcoming launch of CincyStat, the city's PerformanceStat initiative [click here] and the city's plan to implement outcome budgeting [click here].