Podcast: Play in new window | Download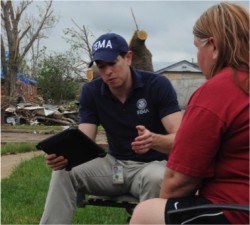 How can public agencies strengthen a culture of data-driven decision making? We explore that question with Carter Hewgley, the Enterprise Analytics Division Director at the Federal Emergency Management Agency (FEMA). He has been leading data-driven initiatives at the local, state and federal levels for the past ten years. In 2011, he began leading FEMAStat, FEMA's version of PerformanceStat, with its data-driven conversations among the agency's executives. Today he leads the division at FEMA that helps build analytical capability across the agency.
Web extras: Carter Hewgley discusses why additional analytical capability, beyond the "stat" approach is also useful. [click here] He also discusses FEMA's efforts to empower employees with data, ranging from data on disaster responses by FEMA to internal processes such as tracking hiring. [click here]
Photo: Carter Hewgley providing on-site registration after a tornado in Moore, Okla., 2013. Credit: FEMA.