Podcast: Play in new window | Download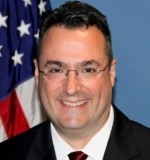 How can public agencies at the federal, state or local levels strengthen employee engagement? We get insights today from the Federal Trade Commission. Since 2010, the FTC has been among the top three federal agencies, among 37, in terms of employee engagement, according to the Employee Viewpoint Survey (EVP) of nearly 400,000 federal workers. To rank agencies' level of employee engagement, the federal Office of Personnel Management uses EVP data to create the Employee Engagement Index, based on factors that facilitate employee engagement such as effective leadership and supervision, as well as work that provides meaning to employees.
To learn about what FTC does to build and maintain employee engagement, we're joined by David Robbins, the Executive Director. In his role, which reports directly to the Chairwoman, he oversees the administration and management of the Commission.
As background on the FTC, it has three main bureaus: consumer protection, competition, and economics. Its mission is to promote competition and protect consumers.